Our pipeline has grown 12x in the last 3 months alone (November 2021 – January 2022)
I am Pushpinder, the Chief Product Officer at FreightExchange and here are my learnings from onboarding each of those businesses and some insights on why they're queuing for our advanced multi-carrier shipping platform.
Easy to Start
The immediate value proposition I have seen to work is the ease of starting up for businesses that are being pitched complex solutions to their unique but simple shipping problems.
No Setup Fees
Unlike every other platform charging $2,000 to $120,000 in setup fees, FreightExchange has spent its efforts to completely remove setup fees from the conversation. Unless there are very bespoke needs from the customer problem, we do not have any setup fees. Get in Touch
No Sales Dramas. Yes Free Trial.
Hard NO to dramatic appointment scheduling, bespoke demo's, lengthy sales packs and countless follow-ups. In-fact, at the moment we do not employ sales staff, our product team gives demo's but the first call to action sits with our customers, i.e. to try their first 100 shipments without getting into subscription plans. Signup for a Free Trial
Carrier & System Integrations
Took our whole engineering team about 6 weeks to unlock the unique recipe, and we our customers now have the capability to integrate with popular CRM/ERP/eCommerce systems and several carriers on the click of a button. Checkout our Couriers and System Integrations
Transparent Pricing
Gone are the days of hooking on the size of the problem and charging every customer differently. Our unlimited use and growth based pricing comes with flat per shipment fees for all the features every business needs to run an efficient shipping operation. We also offer additional modules also flat priced for advanced business use cases. Checkout our Pricing
Discounted Rates as Service
Unless you are shipping 1000's of shipments a week, what's the point of having your own contract rates with one carrier when you can find better rates and DIFOT with a variety of other carriers? All available instantly for businesses. Checkout our Rates
Easy to Use
Okay, so the business wants to use our product, what now?
Simple & Multi-User Platform
Our easy to use and multi-user platform is accessible from any type of computer with an internet connection.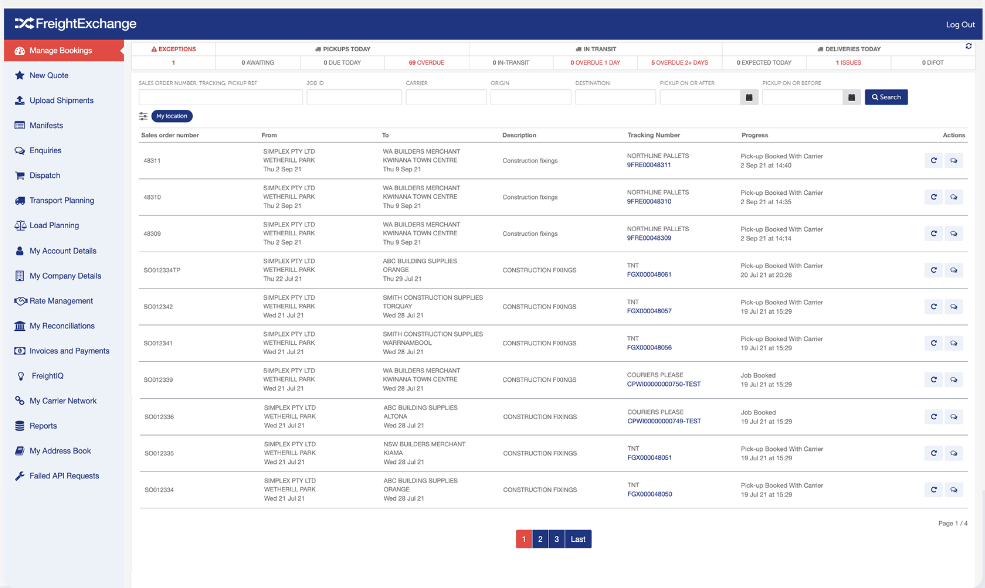 Be it people in the warehouse or up in the office spaces, we support sales, customer service, dispatch, reporting, finance and leadership teams to operate and get complete visibility on costs and stuff. Start Free Trial or Schedule a Demo
Invisible APIs
Interestingly, most of the users with high volume customers don't even know about FreightExchange, we are the invisible partner they book shipments with right from within their internal systems without knowing what happens in the background; thanks to our extensively capable APIs. Checkout our API Documentation
Fast Dispatch Features
So what if we have spent most of the last decade working in logistics and building shipping features that speed up shipping by 5x, save 25% of labour costs. Goodbye to manual shipping errors, poor customer experience, excel sheets, line by line reconciliations and always worrying about "where's my stuff". Checkout our Features
Kick-Ass Support
We have on simple rule, everyone in our company has visibility on support tickets. So in short, each of us is keeping the other responsible while we solve for problems in your day-on-day booking data, pickups, rate calculations, manifests etc. Checkout our Support Portal
Easy to Grow
Any now that you're using the product, how does it grow as your business grows?
Advanced Plugins
Through customer feedback and market research, over the past 5 years we've built advanced shipping features like Invoice Reconciliation, Transport Planning, Business Rules, Load Planning, Dangerous Goods Documentation and Sales Rates so you can use the same processes that the leaders in the industry are using, at the fraction of the cost. Checkout our Plugins
Procurement
Through our carrier partnerships, we offer procurement services where we can help you get the best rates with the best carriers and warehouse service providers when you need them the most. Get in Touch
Consulting
We can say this with confidence that many small to medium businesses don't need highly tailored shipping operations. That said, there are times when your business needs to improve internal processes, find better partners, connect data flows, implement industry standards, measure efficiency or in short make the whole operation "less clunky" and eventually smoothly operating. That's where our logistics expertise comes in, get in touch and let's chat to find our how we can help you!
If you want to read how we've helped businesses in the past, checkout our case studies. I am personally reachable at pushpinder@freightexchange.com.au or at 0411 468 598 in-case you want to learn more about our products, services or in general want to chat on all things shipping.
Speak soon!